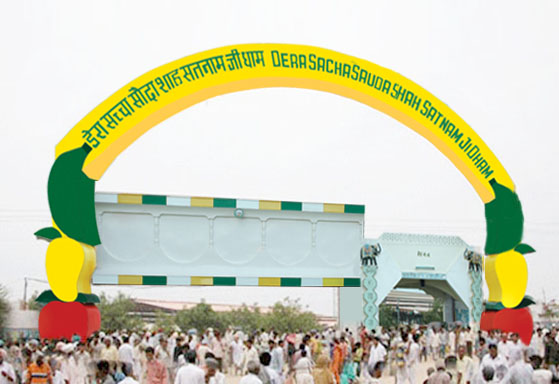 Call to Doctor for any emergency
Dera Sacha Sauda is a spiritual organization pioneer in initiating humanitarian services across the globe. It works on practical principles of humanity by following it, 6.5 million followers are extending selfless services to every needy.
Though the ashrams of Dera Sacha Sauda are situated at varied locations, the main center is located in Sirsa, Haryana, which was situated by the first Spiritual Master Rev. Saint Shah Mastana Ji Maharaj on April 29, 1948. With the sacred grace of Shah Mastana Ji and second Spiritual Master, Rev. Saint Shah Satnam Ji Maharaj, countless people attained the secret of life by getting blessed with the Method of Meditation. Under the shadow of Present Spiritual Master, Saint Dr. Gurmeet Ram Rahim Singh Ji Insan, this spiritual tree has scattered to the whole universe and blessing all with divinity!
The organization works on principles of peace, brotherhood, and equality. The true Method of Meditation imparted here boosts up self-confidence and paves the way to Almighty & self-realization. Today, Dera Sacha Sauda is admirably upholding mankind by providing initiating 135 welfare works. Each of its followers is carrying on these works worldwide and bending over backward to alleviate the pain of others.
Having queries regarding COVID-19? We've got you covered!
Feel free to ask any doubt regarding COVID-19 from the experts. We are here to provide you ultimate consultation 24*7.
If you seek instant guidance regarding your health or want clarification on coronavirus & its treatment then contact us anytime. Our team of specialists is all here to provide you professional guidance free of cost.
Besides consultation, you get medicinal recommendations at a moment's notice. The best part is, you get it free of cost!
Let us together fight COVID-19 and nullify its impact. Get in touch with us, and implement the expert advice in your lives for a safe living!
The best way to prevent illness is to avoid being exposed to this virus.